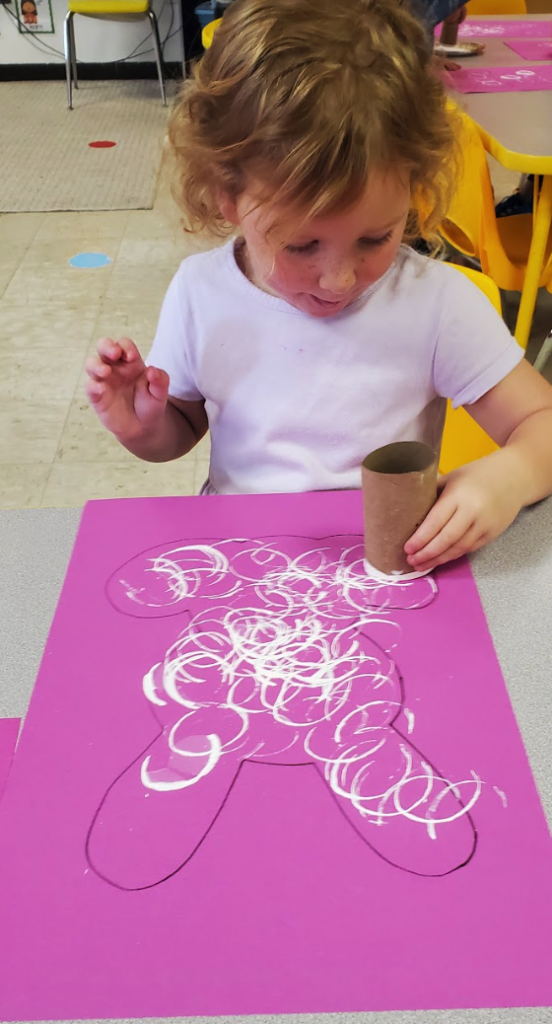 Young children possess a natural curiosity. They are eager to explore the world around them. An environment rich with developmentally appropriate learning experiences enables young children to know the joy of learning. This love of learning will serve them well for a lifetime. Encouraging the desire to learn is the primary mission of Christopher Academy's preschool and pre-kindergarten program.
Preschool
The preschool program is self-contained with an emphasis on learning through purposeful play.  Children's social interaction with each other is encouraged through free play activities.  Opportunities to dress-up, build, and play house provide a chance for children to share, take turns, and use their imaginations to role play and create.  
Fine motor skills such as cutting, gluing, painting, drawing, and tracing are practiced and promoted through daily art activities.  What a great way to learn colors and shapes!  
Daily music and story time reinforce memory, focusing, and listening skills.  Finger-plays, songs, and stories emphasize letters, numbers, seasons, and holidays.  
Each day, weather permitting, children play outside.  Climbing, running, jumping, and learning to pump on swings are just a few of the gross motor skills that are encouraged.  On rainy days, our 3 year olds enjoy marching, dancing, and playing rhythm instruments inside the classroom.
Pre-kindergarten
Our unique program provides a developmentally appropriate curriculum using a learning center approach to facilitate the development of pre-kindergarten skills.
The Language Arts and Math Room promotes oral expression, increased vocabulary development, and phonological awareness by providing an environment rich in children's literature and varied hands-on language experiences.  Through class projects, students begin to develop number and letter recognition.
The Art, Science & Playroom is supportive of the language arts curriculum, promotes the development and refinement of small motor skills and the free and creative use of a variety of art and science materials.  Verbalization is encouraged by describing/titling artwork.  Students participate in creative and dramatic play, emphasizing cooperation and consideration in group situations.
The Music and Enrichment Room serves as a multi-purpose learning center.  Pre-kindergarteners play outside on a well-equipped playground when weather conditions permit. The music portion of the class features choral activities, including songs and finger plays, that focus on rhyme, rhythm, and repetition.  Musical instruments, listening activities, circle games, and dance enrich the experiences.  Music is used to reinforce concepts covered in language arts, math, science, and art classes, as well as for the joy of exploring music in a child's world.
Preschool Admission Requirements:
Before enrolling in preschool, a child must be three years of age by September 30.
Must be toilet-trained.
Pre-kindergarten Admission Requirements:
Before enrolling in pre-kindergarten, a child must be four years of age by September 30.