Curriculum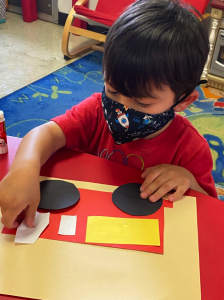 Christopher Academy offers a developmentally appropriate curriculum that challenges students to do their personal best cognitively, socially, physically and emotionally. The curriculum and program focus on preparing students to be academically and socially successfully in the 21st Century. The School provides a stimulating environment in which hands-on, experiential learning opportunities encourage students to explore and discover through project based and STEM inspired instruction. By developing a strong foundation in language arts and math skills, our students become confident learners. Science and social studies instruction, enriched by exciting field trips, provides opportunities for our students to explore their environment and to gain understanding of our history. Spanish instruction begins at first grade. All students (Preschool – 5th grade) enjoy weekly art and music classes. Technology is integrated throughout the curriculum.  Outdoor play is a favorite part of the day for our preschoolers. Physical Activity classes are offered for our elementary students.  
PRESCHOOL
Philosophy:
Young children possess a natural curiosity. They are eager to explore the world around them. An environment rich with developmentally appropriate learning experiences enables young children to know the joy of learning. This love of learning will serve them well for a lifetime. Encouraging the desire to learn is the primary mission of Christopher Academy's preschool program.
Goals:
Stimulate preschoolers' natural desire to learn by providing developmentally appropriate learning experiences.

Meet individual learning needs through varied materials and activities.

Provide learning experiences to develop social, emotional and cognitive readiness for the next step whether Pre-Kindergarten or Kindergarten.

Help children develop confidence in their ability to learn new skills.
PRE-KINDERGARTEN
Pre-Kindergarten provides a developmentally appropriate curriculum for students who are four years old by September 30 or older. A team of three teachers coordinate instruction for our Pre-K students. The Pre-K classrooms serve as learning centers for the students. They spend part of each morning in each of these learning centers acquiring new skills that will help prepare them for Kindergarten.