Christopher Academy (formerly The St. Christopher School) was founded in 1970. The School began with Pre-K 4 and Kindergarten students expanding to third grade in 1976. Christopher Academy added fourth grade in September 2005 and fifth grade in September 2006. Christopher Academy, an independent, nonsectarian school, offers a developmentally appropriate curriculum that challenges students to do their personal best. Our students have successfully transferred to other area independent and public schools over the years upon completion of our program. Christopher Academy is accredited by the Virginia Association of Independent Schools (VAIS).
Margaret Heely and Mariana Sumner
Rev. Jack Chamblin and the Education Committee of the Saint Christopher Episcopal Church contacted Margaret Heely (1924-2015) and Mariana Sumner, local educators, in the spring of 1970 proposing that they establish a "creative" school with high scholastic standards. The school was to be nonsectarian, function as an independent entity, and be a tenant of the Saint Christopher Episcopal Church. Mrs. Heely picked the name "The St. Christopher School" not because of the location, but because she liked the idea that children are "travelers" and St. Christopher was the patron saint of travelers.
The St. Christopher School opened in September 1970 with 15 Pre-K 4 and 18 kindergarten students were recruited and enrolled. Dorothy Seward, a teacher at the Chesapeake Demonstration School, joined the faculty in 1971. By 1976, the School had grown through third grade. The Pre-K 3 program was added in 1983. Mrs. Seward became the Director in 1978 and continued in that position for 20 years. Phyllis Shannon became Head of School in 1998 and retired in 2016 after 18 years.  Mrs. Miriam Terry, a teacher at Christopher Academy for many years became the Head of School in the fall of 2016.
The St. Christopher School becomes Christopher Academy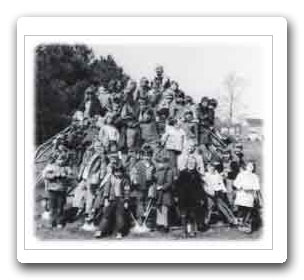 In 2004, the Board of Trustees changed the School's name to Christopher Academy to more accurately reflect the nonsectarian, independent status of the School. In making this decision, the Board considered a number of names, but kept returning to the idea of keeping Christopher as part of the new name. Saint Christopher's Episcopal Church has been the School's home since 1970 and has played a significant role in our being able to offer a high quality learning experience for our students. We highly value the special relationship we have with Saint Christopher Episcopal.  Therefore, the Board felt it was appropriate to honor both the Church and the School's history by selecting the new name Christopher Academy.
Christopher Academy Continued to Grow
Recognizing that the parents of our students were anxious for the School to expand the program through fifth grade, the Board began leasing classroom space at Centenary United Methodist Church. This enabled us to offer our first fourth grade class beginning in September 2005 for 10 very happy, excited students. The expansion continued in September 2006 with the addition of fifth grade.  CA values and appreciates our close relationship with Centenary United Methodist.
An optional afternoon kindergarten program was added in September 2008. The program, referred to as K-Cubs, provides enrichment physical, social, and cognitive experiences for kindergarten students. This program was developed in response to the desire of many parents to have a full day kindergarten program for their children.  This program became full day for all kindergarten students in the fall of 2016.
The School has offered Adventure Kids, an after school program for first-fifth grade students, since 2008.    Offerings vary from year to year according to the interests of our students.  The CARES Club (Christopher Academy Really Excels at Service) is a community service club for students in first through fifth grade that meets once a month.
Our Extended Day Program (EDP) was established in September 2016 to meet the needs of many of our families.  Childcare is available both in the morning and afternoon for all currently enrolled students.  This program is fully licensed by the Virginia Department of Social Services.
Challenging Curriculum and Rich Traditions
Christopher Academy has offered a developmentally appropriate curriculum in an environment rich with a variety of materials and experiences. Each grade level looks forward to treasured traditions and events that enrich the learning experience. Teachers guide students to explore, experience, and discover through project based and STEAM inspired instruction.  In recent years, integration of technology throughout the curriculum has provided students with new tools and resources to facilitate learning. The curriculum and program are continually reviewed to ensure our students are developing the skills needed for success in the 21st Century.
From its inception, it has been the practice of Christopher Academy to welcome students and staff from diverse backgrounds. Christopher Academy does not discriminate on the basis of race, origin, religion or sex regarding admission or employment.
Accreditation and Strategic Planning for the Future
On October 5, 2005, Christopher Academy received full accreditation by the Virginia Association of Independent Schools (VAIS) and continues to maintain full accreditation. The accreditation process challenges CA to engage in an ongoing process of strategic planning, self study, and self improvement. The Board of Trustees periodically reviews and updates the strategic plan and goals for the future.  Our focus is providing the best possible academic and social foundation for our young students.